Regular price
$100.00 USD
Regular price
Sale price
$100.00 USD
Unit price
per
Sale
Sold out
Unleash the rhythm of nature with a Buffalo Spirit Drum - where tradition meets sustainability. Secure your spot in our Spirit Drum Creation Workshop today and experience the art of crafting authentic Native American style frame drums with sustainably harvested hides.

DIFFICULT, not suggested for those with hand problems or no experience!!! 
Buffalo is associated with Wisdom and Abundance. It's used when we seek wisdom and guidance from the Ancient Ones, drumming Buffalo opens the door to that vibration. Buffalo teaches us to honor the paths of all as we walk with Spirit.
Share
View full details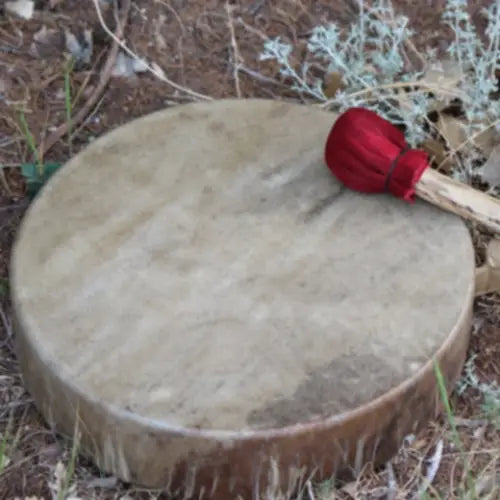 Spirit Filled and Spirit Led, this Workshop is a Winner!
From the moment Mike & Angela arrived to set up, ceremony began. They are two of the kindest, most genuine people I know and they didn't seem to mind my constant questions. Inside, I'm an eight-year-old who wants to know everything about everything. I was honored to take photos of the whole process and even more honored when Angela picked up my camera and took some candid shots of me, hard at work. Their instructions were clear and either or both of them was ready to step in to help if one part seemed to difficult. They were mindful to allow each workshop attendee to have complete autonomy and create the drums by ourselves, so that when we finished we had true works of art to help us on our personal spiritual path. I play my Buffalo Drum every day and it helps me connect with the animal spirit as well as the Great Spirit who dwells within each of us. At the end of the day, each drum builder was given a beautiful tote to carry and protect our drums, the drumsticks we'd made, a tub of Shea butter, and a set of instructions for caring for our drums. I highly recommend this workshop for anyone wishing to own a frame drum because building your own is much different from simply buying a drum that was created by someone else.
Birthing a Drum
There is a sacredness, a medicine, a Magick in the act of taking an animals hide and transforming that piece of its remains into a drum, a rebirth that will carry the heart beat of our Mother in unified rhythm with the beast heart , our heart and the rhythm of all that surrounds us.
As the animal lives on in this reincarnation of the drum build , and we too are better able to feel our connection to Great Spirit through the drum.
Thank you guys for an amazing experience,
My buffalo drum is good medicine for sure
Blessed Ne and Aho
We are so blessed to have had you in our drum birthing ceremony! Helping you bring your buffalo drum into the world was our pleasure!